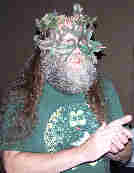 Several years ago when I began this blog, I told the story of finding my way to the Grove of the Unicorns in Atlanta, GA. While the motherhouse did not have space for me, I was taken in by a hived of coven, Grove of the Winged Scarabs.
We often celebrated rituals with the Grove of the Unicorn and other hived covens. In those days, Lady Galadriel was Queen witch with her husband Lord Athanor. When my world and my coven fell apart, they offered me space with the motherhouse. Too much water had passed and I was moving north and following my heart to Cameron. But their kindness touched my life profoundly. Their wisdom has shaped my life in ways I cannot even express.
In those days, I was known as Weaver and my Sister of the Heart (here called Fiber Geek) was Spinner. A few moments ago, Fiber Geek sent me word that Lord Athanor has crossed into the Summerlands to join the love of his wife, who crossed several years ago.
Lord A loved to brew mead. Check out his
page
and let's have a brew on his behalf.
His power of personality, joy of mead and wisdom shall be missed by many. Blessed be, Lord A. Thank you for touching my life.